MESSAGE FROM BROOKS' WIFE JULEA
The best way I know how to sum up Brooks is this beat up ol' Life is Good hat. Brooks wore and epitomized it daily: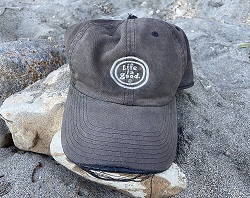 He loved well. He said, "I love you with my whole heart" almost every day and told our kids he loved them daily. Even in his last days when he could hardly speak, he still said, "I love you" to close friends and family.
He lived well. He worked to have a positive impact in the lives of others and in the criminal justice system for crime victims. And he loved good food, good friends, and good wine.
He suffered well. Through six years of cancer and many painful days, he almost never complained (seriously). Despite the heartbreak and trauma of losing his parents early, he still looked for and created joy in life.
For anyone who has experienced trauma or loss, Brooks would recommend trying to "put as many good memories as you can between you and the tragedy that happened to you." Metaphorically or actually – put on your "Life is Good" hat and make the most of your lifetime. Live well. Love well. Suffer well. As Brooks wrote for The Amendment movie tagline: WE ARE CAPABLE OF MORE THAN WE EVER THOUGHT POSSIBLE.